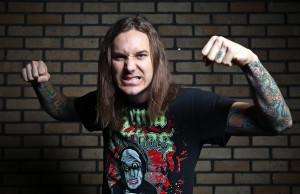 Tim Lambesis, the lead vocalist and founding member of heavy-metal rock band As I Lay Dying, was arrested on Tuesday, May 7th for plotting to murder his estranged wife. He allegedly tried to hire an undercover detective for the murder. He was arrested just days after his Asian tour, at a retail establishment in Oceanside, Southern California at 2pm, local time.
According to the San Diego police, this was a murder-for-hire plot. His estranged wife Meggan lives with their three children and had filed for divorce last September. Police spokesperson Jan Caldwell said that they were able to avert what would have been a great tragedy. She refused to comment on his motive or how the police learned about the plan. He also liked to play mobile phone slots a lot.
The band's sixth album. They were nominated for a Grammy in 2008 for the song, "Nothing Left". They have several As I Lay Dying band members identify as Christians, but Tim Lambesis is said to have lost faith. Tim Lambesis and his wife had adopted their three children from Ethiopia. His fellow band members issued a statement on their website Wednesday night expressing solidarity with Tim, his family and their fans. As I Lay Dying fans have expressed shock and disbelief over the event all over the social media. Saddened fans are leaving support and prayer messages on the singer's Instagram and Twitter accounts.
Tim Lambesis is currently being held in the Vista Detention Facility. He is scheduled to appear in court on Thursday for arraignment.