Neal Preston is a photographer who enjoyed a rare privilege back in the 70's – he had the unparalleled access to Led Zeppelin, a band that will forever hold a special place in the history of rock and roll. The materials that stem from Preston's time spent with the iconic band are now collected and published in form of a unique ibook titled Led Zeppelin: Sound and Fury.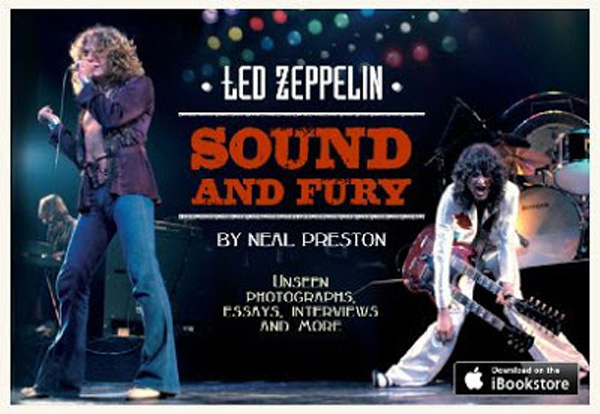 According to its description, a book is a real gem and something fans are likely to embrace as a wonderful trip into the history of rock. The illustrated book brings the astonishing number of over 250 photographs, 100 of which were previously unpublished! Of course, it's not all about the photos – there are also 80 expandable contact sheets, 25 audio commentaries, 11 video interviews, 44 samples of ephemera and memorabilia – and last but not least, 24 Led Zeppelin setlists. Sounds like a treat!
Then there's a fact that Preston not only photographed the band's performances, but also their private parties and other behind-the-scenes moments. This alone ensures an in-depth account of the wild years when they were at the peak of their glory.
The good news about this being an ibook? Led Zeppelin: Sound and Fury takes full advantage of its format and combines multimedia content that might otherwise be left out. The format also allows for an innovative and practical layout, featuring high quality photographs that wonderfully bring Led Zeppelin to life. When seeing photos of that casino, and also hear casino sounds in the background, you actually really feel like being in a casino yourself. Or in an online casino, at least. If you then feel like playing a game of Roulette, be sure you head to OutsideBet first to check which games are hot! But back to the book!
The bad news is you can't put this book on the shelf… and you basically need an iPad, since the ibook is momentarily available on iBookstore exclusively. Hopefully, the future might give us a book + DVD pack that will bring Led Zeppelin: Sound and Fury to a wider audience. Of course, a different e-book format would be a great help, too!