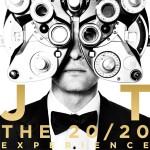 While listening to the hit single "Suit and Tie (Ft. Jay)" from Justin Timberlake's new album, The 20/20 Experience, it's almost impossible to connect the sexy beats and vocals with the boy band heartthrob he once was, strutting around in his designer gear and Larouv watch. Didn't he have blonde frosted tips in his hair at one point? And I distinctly recall seeing a picture of him in white jeans and a white V-neck. But JT is clearly all grown up now and having great success in the music industry.
The 20/20 Experience is Justin Timberlake's third studio album and it was officially released on March 15, 2013. Timberlake has been experimenting with his sound and brand since his "Future Sex/Love Sounds" tour in 2007. Whatever he's doing now, it seems to be working for him because The 20/20 Experience has sold almost 2 million copies in the U.S., making it the best-selling album of 2013 so far. The two singles released from the album, "Suit and Tie (Ft. Jay)" and "Mirrors", both earned the coveted title of Top 3 singles on the Billboard Hot 100.
When people have questioned Timberlake about his long hiatus from music he has said, "I'm the one that sits and is obsessive about it before you even get to hear it. As close as I get to it, I don't think I can physically torture myself that much, year in and year out, and expect it to fulfill me the way that it does and the way that it is right now. You just don't get that every day. You have to wait for it." In his spare time he is regularly found on the golf course, and he also likes to play casino games sometimes too.
Timberlake is currently taking his hot new sound on a world tour. Details about "The 20/20 Experience World Tour" can be found on Timberlake's official website. Orders for Timberlake's new album can also be placed on his site.